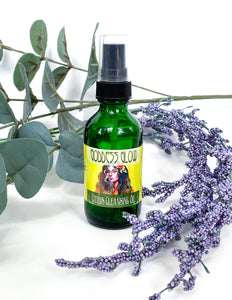 Goddess Glow Citrus Cleansing Oil is an antioxidant-rich blend of oils and citrus, that softens and nourishes skin while gently removing makeup, dirt, and buildup. Excellent for all skin types. 
Oil cleansing is a gentile method of cleaning the skin and removing makeup that will not strip the skin of its natural oils. It's less drying and irritating than cleansers with surfactants. 
Instructions: Use 2 to 3 pumps of product, gently massage into face to remove dirt and makeup. Wipe away with warm washcloth.
PRESERVATIVE-FREE / GMO-FREE / CRUELTY-FREE / PERFUME-FREE / VEGAN
No junk or cheap filler oils used, ever!
INGREDIENTS: 
APRICOT OIL, OLIVE OIL, CASTOR OIL, JOJOBA OIL, GRAPEFRUIT OIL, ORANGE OIL
2oz