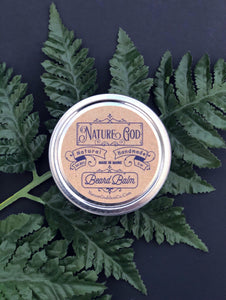 Nature God Beard Balm is made by hand with pure and natural ingredients. It provides nourishment to make your beard healthier, thicker, and stronger than ever. Whether you have a weeks worth of scruff or you're sporting the lumberjack, it will condition, protect, and provide you with a light styling hold. 
Scent: balsam fir needle
2oz
Instructions: 
Start with a small amount of beard balm, rub between palms to soften. Work into beard starting at the ends and moving up towards the roots. Repeat until you have the desired texture and style.

INGREDIENTS:
APRICOT SEED OIL
ORGANIC COCONUT OIL
RAW SHEA BUTTER
BALSAM FIR NEEDLE OIL